Olympus CellR/ScanR
Contact: Tomasz Węgierski
Access: training required
Access fee for academic users: 50 PLN net per hour
Access fee for commercial users: 100 PLN net per hour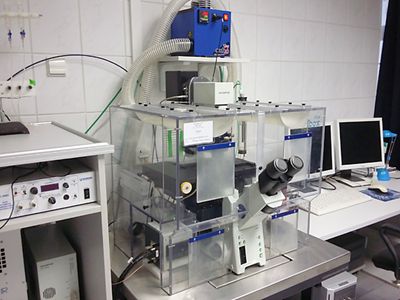 Wide-field fluorescence microscope on inverted stand for real-time acquisition of live and fixed cells. Illumination with 150 W xenon lamp or 100 W halogen lamp. Fast excitation filter-wheel and shutter. Front-illuminated EM-CCD Hamamatsu camera. Lenses: 10×/0.4, 20×/0.75, 40×/0.6, 40×/0.95 (all dry) and 60×/1.35 (oil).  Nomarski contrast. Incubation cage and heating insert with CO2 delivery for live imaging. Hardware and software autofocus. Motorized XYZ axes. Acquisition software: CellR for multidimensional imaging and ScanR for unbiased, high-throughput imaging.  
Fast, multidimensional, fully-motorized acquisition of fluorescence samples
Ca2+ imaging with Fura-2
Semi-high throughput imaging of cells in multiwell plates
Samples must be on glass coverslips (e.g. slides, 35mm petri dishes with glass bottom, 40mm Warner Instruments chambers) or thin imaging-quality plastic except when using 10×/0.4 and 40×/0.6 which can image through thicker glass/plastic dishes (thickness must be less than 2 mm). No special requirements for fluorescent dyes.